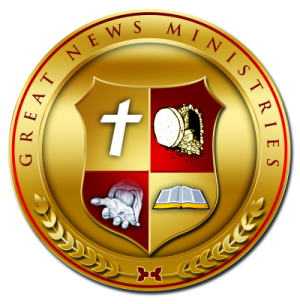 Great News Ministries was started with two goals:
To Biblically and lovingly share the gospel of Jesus Christ with the Lost.
To come alongside, encourage, and equip Christians to share their faith and see God work as they have never imagined.
What is "The Great News?"
It is briefly illustrated in the four drawings in our logo:
​
We've sinned against a Holy God more times that we can count. Because of His GREAT Love, God came down to pay for our sins. Jesus never sinned even once, yet he died like a sinner on the cross to take our place.
​

"Christ died for our sins, just as the Scriptures said. He was buried, and he was raised from the dead on the third day, just as the Scriptures said" (1 Corinthians 15:3-4).

There is solid evidence that the Resurrection of Jesus actually happened historically. Please click here.

​
Because God so loved the world, he is reaching out to you and me to repent of our sins and believe on the Lord Jesus to be saved, and to be adopted as a child of God.
We get to know God by studying the Word of God, the Bible. This will make us grow in our faith and become more in love with him.
Great News Ministries was started by a Missionary, Mark Sohmer, and his Family.
We are:
Mark
Shelby
Vivienne
Juliana
Caleb
Gabriella
We are Missionaries with Open Air Campaigners, USA.
Luke, chapter 15, has become the "theme verses" describing why we do what we do.
Please click here to hear about how God used Luke 15 to impact us.
Mark did not grow up in a Christian home – quite the contrary. He grew up in a Jewish home where he learned that "Jews are not supposed to believe in Jesus."
He became hardened to the name of Jesus, and in college was harsh towards those who professed belief.
But God is able to save anybody.
A friend shared the gospel of Christ with him, and Mark became so angry that he read the book of Matthew in order to prove to his friend how ridiculous faith in Christ is.
Instead, Mark learned that Jesus is the true and living Messiah and he knew he had to follow Christ.
Since then he has had a burden for the Lost, and wants everyone to hear that they need a Savior, and the only name under heaven whereby we must be saved is Jesus Christ!
Please feel free to read the testimony of how God saved Mark. It is called, A Jew and His God, and you can read it, or watch a video of it, by clicking here.
Shelby was raised in a Christian home, and her conversion to Christ took years, beginning when she was 5, and culminating in a mature decision at 22.
She says that those years are a testimony to God's patience and perseverance.
Mark and Shelby were married on July 12, 1998, and since then have welcomed four children into their family.
Mark is a "Theological pack rat" and loves finding resources that help him, and others, grow in their walk with Christ. He also enjoys writing his own.
Please feel free to check out the resources available on this their site. They are all free-of-charge, and can be viewed by clicking here.
After 15+ years in the Financial Sector of the "Corporate World," they have stepped out in faith and left their job to serve Jesus full-time on the mission field.
They'd love to be able to chat with you personally about this ministry, so if you, someone you know, or your church would like to have them call you or even visit, please contact them.
They have a strong love for the Local Church, and are happy to be sent by their Local Church, Calvary Bible Church, in Derry, NH.
To find out more about us and what we do, please their ministry website at https://Luke-15.org.
And please contact them anytime!
Also, please stay in touch via Facebook, YouTube, Instagram, or Twitter.
in Christ and for His glory,
The Sohmer Family:
Mark, Shelby, Vivienne, Juliana, Caleb, and Gabriella
Serving the Lord Jesus Christ with Open Air Campaigners, USA.